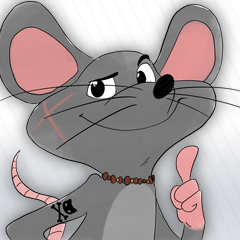 Fredèrico
Through the scorching desert, the vast seas, and the bitter cold, this man does nothing but stride! He hides in the shadows and thrives in the light of the spotlight.
Tales and stories have been written before, but this guy is truly the stuff of legends!
Sultán Fredèrico Buchanán is a wanderer, a hero and a leader.
A wanderer in the way he has no destination. He will keep up the chase, forever seeking the thrill.
A hero in his undying bravery, and his loving will to save those in need.
A leader in the renown he has gained in his homeland. Frederico is more commonly known there as the Third of the Ten Spanish Heralds.
He is not one to settle down, but he holds his dearest wife, Keiko, close to his heart during his travels. There has been speculation about him having 14 children. Nobody truly knows if there are any, or perhaps there are more!
Not much is known about this extraordinary mouse, apart from the various tales that are being told throughout the lands. Most of his recorded life is either a story or speculation. One of the only things that have been continuously stated, Fredèrico is always there to save the day!
Fredèrico's stories