After years of loyal service, we have to say goodbye to Pjotter.
Please welcome a whole new team of helpers.
As a result of a little accident with a bazooka, Pjotter decided to retire. Well, he is not returning our call, at least.
Whatever the reason, we have to move on. And we're doing that in a big way...
Not one, not two, not three, but more characters enter the stage. They are here for your entertainment and pleasure.
Please welcome: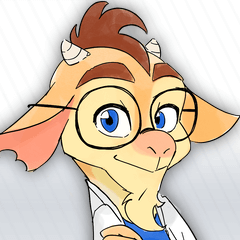 Sven is the founder and frontman of Regular Labs.
Prior to Regular Labs, he was a scientist working on biological and genetic engineering. After meeting the three chicklings, he decided to settle down and work on something he could do from home.
Regular Labs has now become a vital part of his daily routine. It has been keeping him and his family busy for a year now, and they've discovered a whole lot because of it. Sven treasures all the adventures they have had together.
Besides being in charge of the family, he is also in charge of keeping the whole process running smoothly. He finds something odd, Randy solves it, Shelly designs it, and Junior… Well, he's fun to have around.
Sven cares deeply for his family and the little company they have built together.
But despite the intention of starting something regular, you can't deny that their little lab is still a little strange.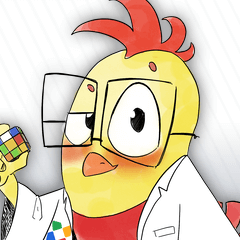 Randy is the head programmer and analyst for Regular Labs.
From a young age, he had an interest in solving problems. This motivates him to write code from dusk 'till dawn. He has always been analyzing problems and situations, he even logs these analyzes in his trustworthy notepad.
Randy is the backbone of Regular Labs. Though his actions may often be underestimated by the team, without his coding and logging, Regular Labs would not be as far as they are now. Sure, the rest of the crew does important stuff too, but Randy's stuff is most important.
Randy is a young augmented chicken who works best in tidy spaces. You can find many innovative devices in his workplace. Such as his 8x8 Rubik's cube, which is not as complicated as it looks. He also has multiple completed lego builds, some of them he made up himself!
He is very proud of this company and its team. Despite the fact that the rest often slacks off compared to him, he is proud of them nonetheless. He gives Regular Labs his all and will continue to do so!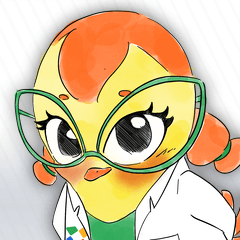 What does a girl like her do in a place like this you ask? She runs it, of course!
Shelly is the team's creative mind. She cares for the company's employees and its audience.
As the head of User Experience & Interface, she needs to keep in mind what speaks to people, and what puts them off. She incorporates this natural talent in her fashion design. Besides her work at Regular Labs, she has become a successful local fashion designer. Her family serves as great models and inspiration for her work.
Shelly keeps her team safe and sane. Whenever Randy thinks too much, or whenever Junior thinks too little, she is always there to help. Whenever the boss is away from the workplace, she is the one who keeps everything in check (even if the other two think they're in charge).
She might be the only member of Regular Labs who tries to find a life outside of the company. She tries out things like Ice Cream Taste Testing, Professional Ballerina-Pointy-Shoe Decorating, and of course Macrame Cutlery Design.
But her having multiple ambitions does not mean she puts less effort into her work at the company!
Shelly is very proud of the products she puts out, especially after she has seen how hard everybody has worked on it (yes, even Junior). She loves working at Regular Labs, and can't think of anything she would rather do than work with her family.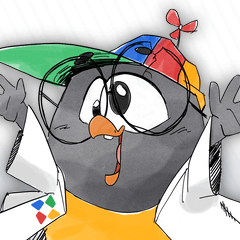 Space Knight Junior the First is the best you can find! Anywhere!
Junior has earned many titles through the years! Because he is the best.
His titles and achievements include:
WINGS
Wonderful Ideas & Next-level Greatness Supervisor
SKY
Super Kool Yellow
FLY
Fellow Lellow Yellow
And most importantly:
CHOPPER
CHief Of Private Personal Elevation Regulator.
Of course, it's not surprising that the best helicopter in the world has earned the title CHOPPER. Junior is a helicopter. He knows a lot about helicopters. That is because he is very cool. And he's a helicopter.
Junior also knows his family. He knows that Randy is very smart and doesn't like it when Junior plays Roblox on his computer. Shelly is very mean but she also thinks that Junior is the best so it's okay. Sven is the coolest, because Sven knows that Junior likes gummy worms.
Junior likes working at Regular Labs because he likes that Sven gives him big hugs after a busy day. So Junior knows he has to work there so he can get hugs during the busy day. Junior always has master plans like those.
Junior is the best member of the Regular Labs team, because nobody else has all the titles and great plans that he has. And he is the only one that is a helicopter.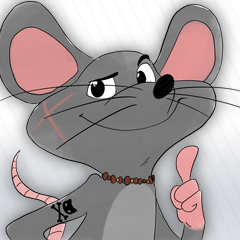 Through the scorching desert, the vast seas, and the bitter cold, this man does nothing but stride! He hides in the shadows and thrives in the light of the spotlight.
Tales and stories have been written before, but this guy is truly the stuff of legends!
Sultán Fredèrico Buchanán is a wanderer, a hero and a leader.
A wanderer in the way he has no destination. He will keep up the chase, forever seeking the thrill.
A hero in his undying bravery, and his loving will to save those in need.
A leader in the renown he has gained in his homeland. Frederico is more commonly known there as the Third of the Ten Spanish Heralds.
He is not one to settle down, but he holds his dearest wife, Keiko, close to his heart during his travels. There has been speculation about him having 14 children. Nobody truly knows if there are any, or perhaps there are more!
Not much is known about this extraordinary mouse, apart from the various tales that are being told throughout the lands. Most of his recorded life is either a story or speculation. One of the only things that have been continuously stated, Fredèrico is always there to save the day!