This new major release of GeoIP, version 3, adds support for the now required MaxMind License Key, and more improvements.
Regular Labs GeoIP is a library / plugin that enables you to utilize the Geolocation assignment options in several Regular Labs extensions: Advanced Module Manager Pro, Advanced Template Manager Pro, Content Templater Pro, ReReplacer Pro and Conditional Content Pro.
These Joomla extensions include assignments by the following Geographical Location options: Continents, Countries, Regions / States and Postal Codes (and ranges).
GeoIP uses GeoLite2 created by MaxMind. As of December 30, 2019, MaxMind requires a License Key (free) in order to download and update the GeoIP database. Today, GeoIP 3 has been released to uphold and support this new requirement.
Once Regular Labs GeoIP is installed for the first time on your site, you will now be presented with a message saying that GeoIP cannot function until you sync the MaxMind GeoLite 2 database.
MaxMind GeoLite2 requires you to create a free account (no purchase required) and create a License Key.
This means that in order to download the GeoIP database on your website, you first need to create a License Key and enter it in the GeoIP system plugin settings.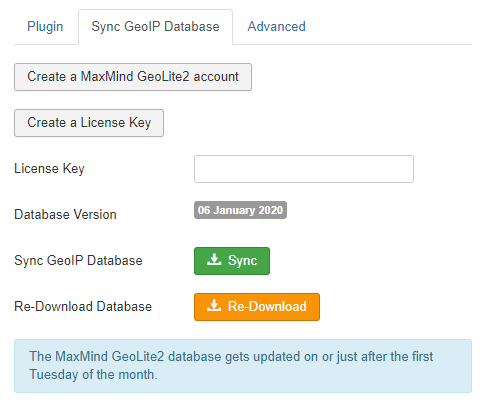 Once a MaxMind License Key has been entered, you can download the GeoIP database by simply clicking on the "Sync" button in the GeoIP system plugin settings.
At this point, you have completed the setup of GeoIP and you will be able to use it in any of the supported Regular Labs Extensions.
The IP Geolocation Database (created by MaxMind) used by Regular Labs GeoIP is stored in a file on your server.
The MaxMind GeoLite2 database gets updated on (or just after) the first Tuesday of the month. However, the database file will not get updated automatically on your website.
With a MaxMind License Key entered, you will be able to sync to the latest database manually at anytime via the GeoIP system plugin settings.
Also, your database will be synced to the latest version every time you update the Regular Labs GeoIP extension.
The latest update also comes with various other improvements and fixes, including:
Improves layout of options in the system plugin settings
Improves method of updating the GeoIP database to server
Improves some language strings
Adds translations: pl-PL
Read the Changelog for GeoIP for the full list of improvements and fixes that have been made in the new releases.
For a complete overview of all the features included in GeoIP, head over to the full Documentation, and check out the Video Tutorials.