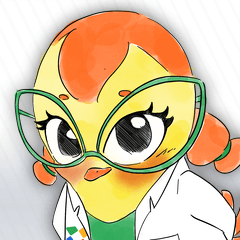 Shelly
What does a girl like her do in a place like this you ask? She runs it, of course!
Shelly is the team's creative mind. She cares for the company's employees and its audience.
As the head of User Experience & Interface, she needs to keep in mind what speaks to people, and what puts them off. She incorporates this natural talent in her fashion design. Besides her work at Regular Labs, she has become a successful local fashion designer. Her family serves as great models and inspiration for her work.
Shelly keeps her team safe and sane. Whenever Randy thinks too much, or whenever Junior thinks too little, she is always there to help. Whenever the boss is away from the workplace, she is the one who keeps everything in check (even if the other two think they're in charge).
She might be the only member of Regular Labs who tries to find a life outside of the company. She tries out things like Ice Cream Taste Testing, Professional Ballerina-Pointy-Shoe Decorating, and of course Macrame Cutlery Design.
But her having multiple ambitions does not mean she puts less effort into her work at the company!
Shelly is very proud of the products she puts out, especially after she has seen how hard everybody has worked on it (yes, even Junior). She loves working at Regular Labs, and can't think of anything she would rather do than work with her family.
Shelly's stories